In today's interview we feature Richa Bhalla from Pedals, a new London-based bicycle delivery service.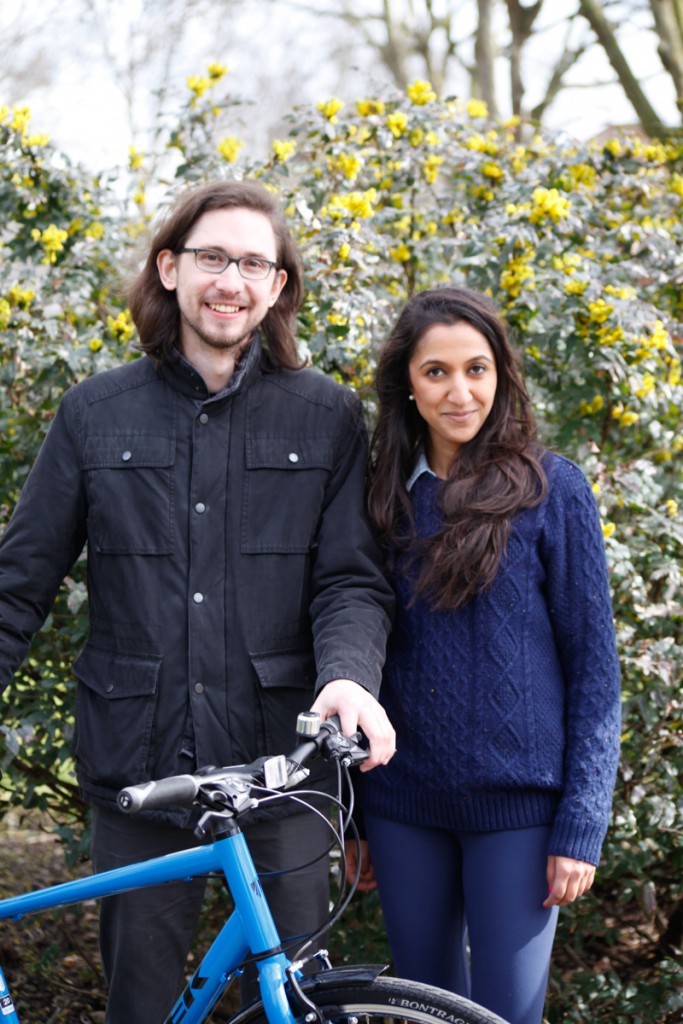 What kind of business do you run? When did you start it and where is it based?
London's first fully green, on-demand bicycle delivery service. We started it in October 2015, and are based out of an old Hospital near Warren Street converted into hot-desking space by the amazing Camden Collective. It's a great spot for getting work done and meeting new and interesting startups. It's definitely helped kickstart our business.
What inspired you to start this business?
Petal & Cycle is the first company that I started from scratch. I knew nothing about the flower business going in and quickly discovered how difficult it was for new startups to get their products around the city in an environmentally friendly, affordable way. In order to run a consistent, eco-conscious service I had to hire a cyclist to be on staff full time which was inefficient when I was in the process of ramping up sales as orders were sparse. Thus I decided to start Pedals alongside Petal & Cycle a few months back. Pedals helps companies as they ramp up distribution. Early on, there's no fully fledged logistics in place for smaller companies and they're in need of interim support while their orders build. Initially, I mocked up an MVP to test and we've adapted ourselves based on feedback since. We still have a long way to go but we change and improve what we have on the site as it continues to be an iterative process.
What is your daily routine of running your business?
For better or for worse we don't really have much of a routine at Pedals HQ. We typically find ourselves solving problems, enhancing our latest offering given feedback and working to keep our windswept cyclists smiling and safe. Alongside all of this we are still small enough to come up with very bespoke green delivery solutions for all of our clients and spend quite a bit of time working on making those ideas come to life. Overall we're aiming to make everyone's interaction with us as seamless as possible.
Tell us about your experience with Y Combinator!
I started off my career in banking and quickly realised that it wasn't for me. I was keen to learn about startups and I decided the best place to do that would be Silicon Valley. I moved there without a job but to hungry start building any experience I could. I managed to wrangle an internship with a company entering Y Combinator and I quickly became submerged in 15-18 hours days, ultimate frisbee tournaments and a ramen noodle lifestyle. As someone with no prior knowledge of the startup world it was an invaluable experience. The guys that I worked with (the three co-founders of the company) excitedly spent time showing me various youtube videos and encouraging me to read the books that make up the foundations of Silicon Valley. They constantly likened my experience to an alien coming to earth for the first time. It was an intense 3 months during which I managed to meet some of the biggest tech stars of our time in very casual settings. Oftentimes I'd get caught up in lengthy conversations only to realise that I was babbling on to the creator of gmail or someone as equally mind boggling.
Who is your target market?
We've just started and are looking for all the help we can get in making a greener London.
So far we've focused on small, eco conscious companies with a similar ethos to us. But we are also interested in targeting individuals that are cycling evangelists and supporters of our cause. There are times when you've forgotten your keys on the other side of town or want to get a birthday present hand delivered to someone that you care about. The alternative has always been to stick things in a cab but at Pedals we emphasise personal interactions, human to human. We ensure hand delivered packages offered up with a smile by our wind swept cyclists.
Whether you're a cool, quirky brand or an individual that cares about the environment, we just want to provide awesome people with a reasonable way to be green.
What keeps you motivated to keep working on your business?
When people get excited about our service when they hear about it. From small companies, to eco conscious individuals we seem to be finding support for our idea all over the place. Helping other small companies out is also really encouraging as I know how much I appreciated any support early on. Having someone focus on logistics is unbelievably useful.
What would you recommend new entrepreneurs? How to get started?
Talk to everyone you know. Keeping things under wraps hinders your chances of ever starting anything. You'll find connections in the most unexpected places so give yourself a fighting chance by not being afraid to tell people about your ideas and ask for advice. It can only help your cause.
Have you ever started a new business and then given up for some reason?
I was sad to see the back of Petal & Cycle but I got to a point where it was impossible to run both at the same time. Pedals Delivery took off much quicker than expected and required my full time attention early on and I was essentially forced to pick one over the other. I also never found the time to find someone to take over day to day operations of Petal & Cycle which is a shame because we are still receiving order requests!
Outside of business what do you enjoy doing? How do you recharge your batteries?
I love walking so I tend to pack up a picnic and head out of the city on the weekend. When I lived in San Francisco people worked really hard but were also in the habit of hiking and being outdoors at least once a week. When I moved back this encouraged me to look into all the amazingly accessible, beautiful spots around London and I had never really taken advantage of it before.
To learn more about Richa's business please visit Pedals-delivery.com.