Today we talk to Kara Witham from Secretsafebooks.com who has a truly unique business!

What kind of business do you run? When did you start it and where is it based?
My business which I run with my husband is called Secret Safe Books. We handcraft and sell online hollow books, flask books, and ring bearer books. It all started as my hobby in 2009 after coming home from work when I was a museum gallery guard in Chicago. Now we are based in Minnesota.
Tell us a little bit about yourself and your background.
I'm 40 and was born in Seoul, South Korea; at the age of 6 months I was adopted by American parents and brought to the USA. As I grew up, I was always interested in crafts and art. My childhood best friend's mother was an artist and would always invent projects for us to do. When I applied for college, I only applied to one art school, the School of the Art Institute of Chicago which is where I got my BFA in painting and drawing. I also took a course in book-making while I was there which came in handy for my current business.
What inspired you to start this business?
Well, I never set out to start a hollow book business. I had been in a long series of odd jobs over the years after art school with very little success at selling my art, and I was starting to resign myself to thinking of any arts or crafts project of mine to be a simple hobby. Using just an x-acto knife, I was making hollow books after coming home from my day job. Then I put a couple up for sale on the craft site Etsy just to see what would happen. To my surprise, they sold quickly. Soon I couldn't craft them fast enough with an x-acto, and my husband bought me a scroll saw to try instead. Over months I developed a better way of crafting the books that was more efficient and more beautiful. The business grew from there.
What is your daily routine of running your business?
I get up around 7 a.m. and make coffee and check the online shop for messages. Then I answer any emails and head out to the workshop (our converted garage). I do the gluing process of crafting on the books, and then my husband comes out to the workshop later to draw templates and brace the books for cutting. After lunch I go back out to the workshop and cut books with the scroll saw and do more gluing. When we're not crafting, we're usually posting about the business on social media. Then in the evenings, we wrap orders to go out the next day.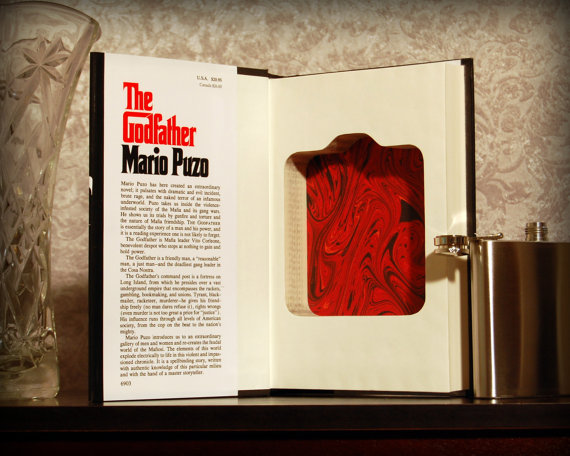 Does your business generate enough money to support you?
Yes, my husband and I both make our living through our business. My husband was laid off from his full-time day job right around the time I switched over from hobby to business. He's better at computers and finances than I am, so we make a good team.
What would you recommend new entrepreneurs? How to get started?
I think "Do what you love" is actually the best start. Then I recommend checking out the competition to see how you stack up and see if there's a market for what you do. If there is, then learn how to improve on your competitors and to create your own niche.
What was your experience setting up your company website?
My husband created our stand alone website via Shopify and found it very user-friendly. He had never designed a site before, and the template we chose had high ratings by other users who said the creators of the template were extremely helpful with any questions or problems. And indeed they were very helpful with our questions. It's been an ongoing process continually tweaking our site based on customer suggestions and looking at other sites. My first shop, which is still running on Etsy was a breeze to set up. Basically, I uploaded a banner with the shop name, I took a few photos of my Secret Safe Books, uploaded them, filled out the description, information about shipping, and it was open for business.
Do you think that Social Media such as Twitter or Facebook are good marketing tools?
Absolutely yes, I think social media is a crucial part of marketing today. I typically ask our customers how they discovered our shop, and not everybody replies, but when they do, it's often to say they found us via Pinterest, Facebook, Wanelo, or Reddit. (Not so much Twitter, because personally I enjoy posting on the other media better. I need to learn how to enjoy Twitter).
What is your experience with paid ads? Do you recommend Google Adwords or Facebook Ads?
We've run Google Adwords for years now consistently, and it's a major source of traffic for us. Right now, our customers from Facebook are just engaging with my regular posts, we haven't tried paid ads yet. We've experimented with paid promoted pins on Pinterest recently and received traffic from it, but not proven sales from the particular promotion. In the past, we paid for two advertorials, where a blog will write up an article on your business, and that was worth it, bringing sales right when they were published as well as months and years later (because they remain on the blog forever).
Outside of business what do you enjoy doing? How do you recharge your batteries?
I love playing with our cat, Remus. I can get him to leap in the air after a fake bird on a string, he always makes me laugh. Plus I enjoy reading books. (Yes, I do actually read books in addition to carving them into hiding spots!)
To learn more about Kara's business please visit Secretsafebooks.com. She also set up an Artisan Gifts subreddit at https://www.reddit.com/r/ArtisanGifts/.