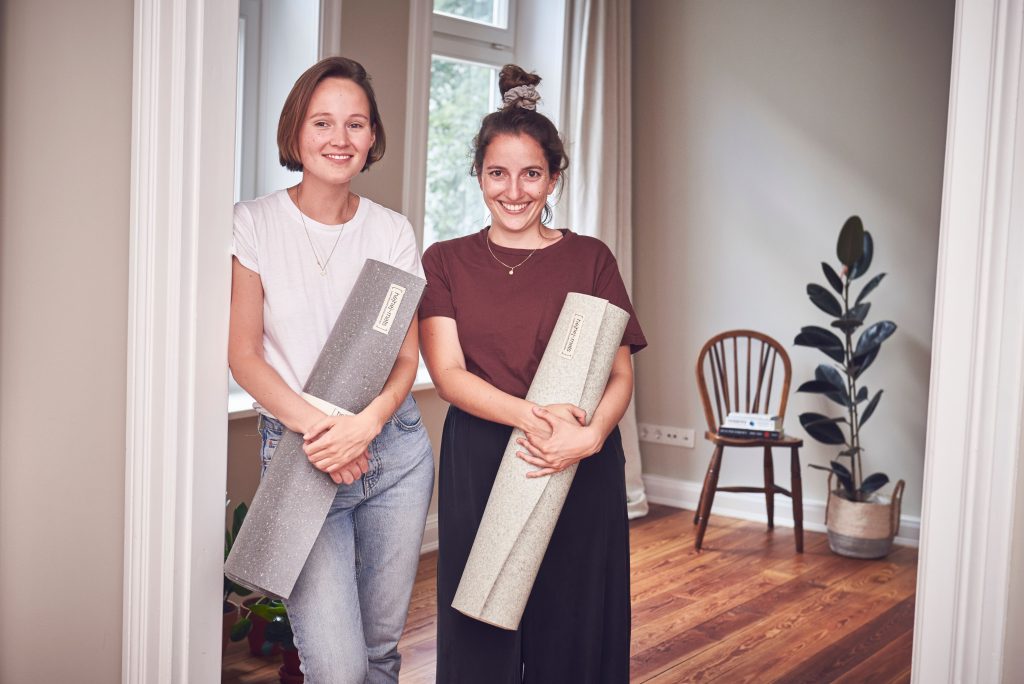 What kind of business do you run?
We developed a closed-loop yoga mat. That means our yoga mats are made from recycled materials and are also recyclable at the end of their lifespan. We are a sustainable start-up that operates in the field of the circular economy.
When did you start it and where is it based?
We already had the idea to develop a circular yoga mat during our Master Studies in Sweden. We officially founded hejhej-mats then in 2017 in Germany and are currently based in Nuremberg Germany.
Tell us a little bit about yourself and your background.
We are Anna and Sophie. Both of us are passionate about sustainability and yoga. We went abroad to study our Master in Leadership for Sustainability in Malmö, Sweden. Before that Sophie did her Bachelor in Social Economics in Nuremberg and Anna studied Marketing Management in Hamburg.
What is your daily routine of running your business?
Actually, for us, every day looks different. We are running hejhej-mats together and are coping with all the different experiences from taxes over marketing to product development. We do not have a fixed office space and are working from home, co-working spaces and coffee shops. We have a little network of other entrepreneurs here in Nuremberg that join us weekly for our co-working sessions.
What are the best and worst parts of running your business?
Well, the best parts are easy to think of. You are working for something that you 100% believe in. You meet amazing people on the way and learn a new thing every day. Of course, being an entrepreneur might not be the easiest way and it definitely makes you experience your personal limits.
What would you recommend new entrepreneurs?
The best advice we can give is just starting! Starting can already be talking to everyone about your idea and then one step leads to the other. Just never let go of the vision.
You know you're an entrepreneur when …
You have an idea that keeps you awake at night!
What is the best business decision you've ever made?
Actually, the best business decisions we made were always the ones we made when we trusted our gut feeling. In the beginning, we did not really feel comfortable with trusting our gut feeling so some decisions were influenced by external opinions and these were definitely not the best ones. Trusting your gut feeling for us was also a learning process and it probably still is.
To learn more about Anna and Sophie's company please visit Hejhej-mats.com.