Josh, Ariel and Perry (all under 25) started the brand after they come back from travelling Asia where they've seen the damaging effects plastic had on the ocean.
Determined to change that, they created a product that appeals to a younger audience and makes 'recycling' more trendy and attractive through a simplistic and stylish design of the can.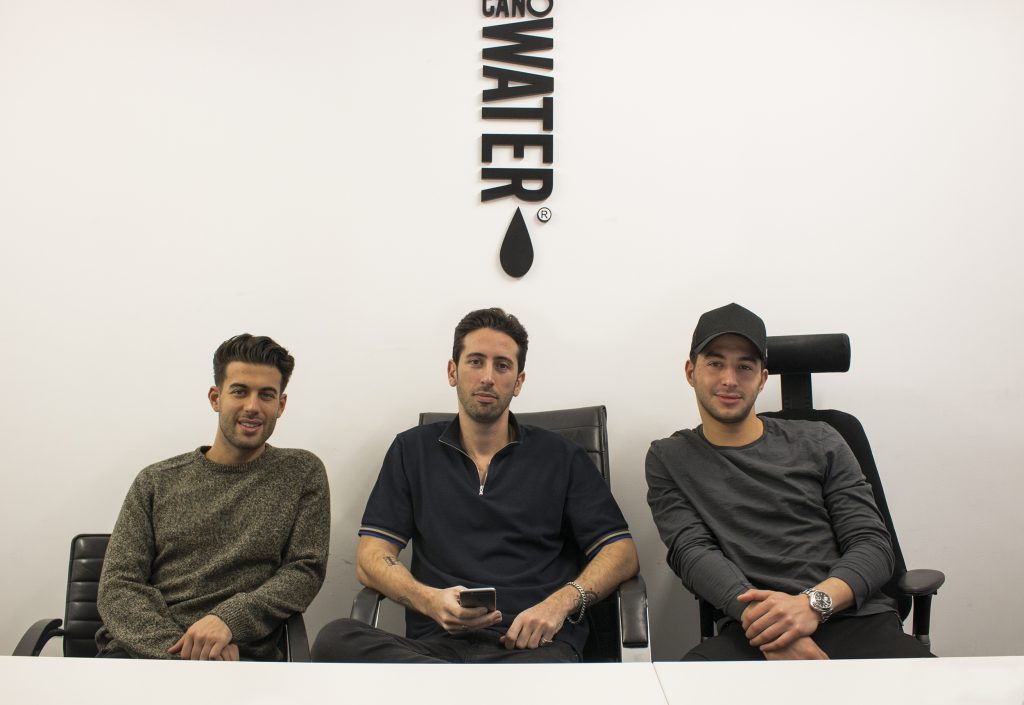 Tell us a little bit about yourself and your background.
We're three close friends who grew up in the same town.
With over a decade of experience in branding and graphic design, Perry decided to apply his skills to his new venture. With the vision of creating a product that has an impact visually as well as functionally for the environment, Perry teamed up with his good friends Ariel and Josh to help further develop the idea and launch CanO Water.
Ariel has a background in the city where he was a headhunter scouting programmers and quant researchers for hedge funds and banks globally. After helping to bring the concept to life, he left his job to focus full time on CanO Water as he saw a gap in the market and was keen to educate people on the benefits of using aluminum vs plastic.
Josh's background lies in the events and nightlife industry, with experience in marketing and having previously run a successful events company, Josh saw a perfect fit within the vision of CanO Water and his passion for the healthy lifestyle.
What inspired you to start this business?
Plastic is increasingly being recognised to be bad for your health and for the environment. We saw a gap in the market for a new innovative product to become the alternative to single-use plastic bottles. We wanted to create something with a purpose and not just another brand that slipped into an already saturated market. Aluminium is the most recyclable material on the planet and more sustainable alternative to plastic.
What are the best and worst parts of running your business?
The hardest thing is learning everything yourself and having to build something that doesn't exist yet. Hitting targets and goals is what makes the hard part worth it. Seeing your brand grow is an amazing feeling.
Which resources to run your business do you use most?
We put a big focus on social media channels from LinkedIn, to Twitter, Facebook, Instagram and Snapchat. For more business purposes we use Xero.
Each platform has a different purpose and we manage it differently. For instance, on Snapchat we will create a unique video content and release behind the scene footage. Facebook is more of an advertising platform whereas Instagram is a tool that we use to post our creative content.
Staying on top of the ever-changing social media landscape is an immense task but we know that is also the one worth investing the time and effort in.
What keeps you motivated to keep working on your business?
We do not see ourselves as another water on the shelf but more as a solution to a huge environmental problem. We nurture people by educating them through social media, events and POS material.
What would you recommend new entrepreneurs?
Just go ahead and start!
Create a full strategy of what it is and who you are marketing it to.
However be prepared for a difficult journey, for these ups and downs but trust us, it's worth it!
To learn more about CanO Water please visit Canowater.com.