Today's interview is with Michael Cannings from Camphor Press who publishes books about East Asia. Read his interview to learn what tools he uses and whether this business is profitable.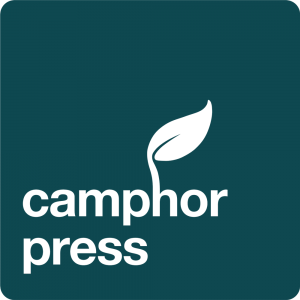 What kind of business do you run? When did you start it?
Camphor Press is a publishing company focused on East Asia. Our books are in English and cover a broad range of non-fiction subjects, with fiction to follow shortly. Most of our revenue comes from e-books, which we sell through Amazon, iTunes, and our own website. We started in early 2014 after about a year of planning.
Tell us a little bit about yourself and your background.
There are three partners: John Ross, Mark Swofford, and Michael Cannings. John, a Kiwi, is the bona fide writer of the group with a couple of great books to his name. He manages communication with our authors, including the manuscript revision process. Mark, from the United States, is a professional editor with a long career working for Taiwanese public institutions, and also an expert on Mandarin romanisation. Michael is a language and history buff with a background in marketing and web development. At the time we started the business all three of us lived in Taiwan, although Michael has now returned to the U.K. after an eleven-year stint in the Far East.
How did you come up with the name of the company?
Coming from Taiwan we wanted a name that reflected the history of the region. Camphor was one of the most important products of Taiwan in the nineteenth century, and was widely used across much of Asia. It evokes a place and time that resonates with us, but it is still general enough that allows us room to cover a wide range of East Asia topics.
What was your experience setting up your company website?
We did this in-house with a combination of WordPress, WooCommerce, and a commercial theme we purchased. Having the knowledge to develop the site to suit our needs definitely saved us a lot of time and expense, and means that if we want to change anything we don't need to go back to a developer – we simply do it ourselves. Taking advantage of the skills of the three partners was crucial to getting a small business like ours off the ground.
Does your business generate enough money to support you?
No. The three partners put in a lot of sweat equity, and the business returns a small profit as a result. If we had to pay ourselves the going rate for our time the business would be deep underwater. However, the point of setting up Camphor Press was never to make money – for us it is about providing a platform for great writers who weren't being heard, and publishing the kind of books we want to read.
What tools do you use to run your business?
The central pieces of software we use are Word (for manuscript preparation), Coda (web development and e-book coding), Photoshop (for cover design), Calibre (e-book packaging), and InDesign (print book typesetting). We use Excel for managing our financials. In a cloudier direction we have a Wiki and Dropbox help to keep everything organised. For SEO the trio of Google Analytics, Google Webmaster and Moz Pro cover our needs pretty well.

What keeps you motivated to keep working on your business?
There is enormous satisfaction in releasing a new book. It can be a lengthy, trying process of debate and revision, but at the end of it we have a product that we know is great. All three of us are hopeless bibliophiles so I think work-wise there is nothing we'd rather be doing. This is the key advantage in aligning your business with your passions – motivation takes care of itself. Except for tax returns – extra encouragement is definitely required there.
What are your future plans for the company?
We started as a digital-only publisher, but there is quite an appetite out there for our books in print. So in the short term with the help of print-on-demand providers we will be offering many more of our books in paperback as well as e-book. We are also moving into fiction, with three novels on the way in the first half of 2016. We will be increasing our physical distribution to get our books into more stores and continually adding to our catalog. In the longer term there is no grand master plan; we simply want to keep putting out great books.
Any tips on the best payment processors?
We use Stripe and the ubiquitous PayPal. We used to use PayPal exclusively, but with our business formerly being based in Taiwan, PayPal's terms of use created some problems for use in retrieving money once people had paid. On moving the business to the UK, and having tried a few options for payment gateways we found that Stripe hit the sweet spot of ease of use, security, and API support. Looking back over the last year, 62% of our e-commerce transactions were through Stripe.
How competitive is your industry?
Not very. There is not a huge market in English-language books about East Asia, but the audience does tend to be knowledgeable and loyal. Alongside books from the big publishing houses there are a number of independent presses in the region, like Areca in Penang (Malaysia) and Earnshaw Books in Shanghai, putting out some great titles, but the subject area is so vast that there is plenty of room for other publishers. It is very much a "passion" industry though – you are not going to make your fortune in this niche.
Do authors keep the copyright of their books? How are they paid?
Yes, authors keep the copyright, and grant us the exclusive right to market and sell the book for a period of time. We operate a simple revenue-sharing model with our authors, so they receive 50% of net receipts (after taxes, currency fees, delivery and similar expenses) for their books. After the first 1,000 copies sold the author's share jumps to 60%. We believe this is one of the most generous compensation schemes in the publishing world, and it's only possible because the primary motive of the business is cultural rather than financial.
How do you find new authors? Do they approach you?
Now that our reputation has spread a little we are approached by quite a few writers. Generally we don't consider "ideas" for books without at least a few sample chapters already written, and preferably a full draft manuscript. A lot of people have good ideas, but transforming that into writing that will captivate the reader is another thing entirely. We do also approach authors with a view to republishing an out-of-print work, writing an introduction for another book, or working on a new project entirely.
Click here to visit Camphor Press' website to learn more.