This week we've interviewed Amber and Seb from London-based food company BRAVE. I have personally tried their delicious snack and recommend it!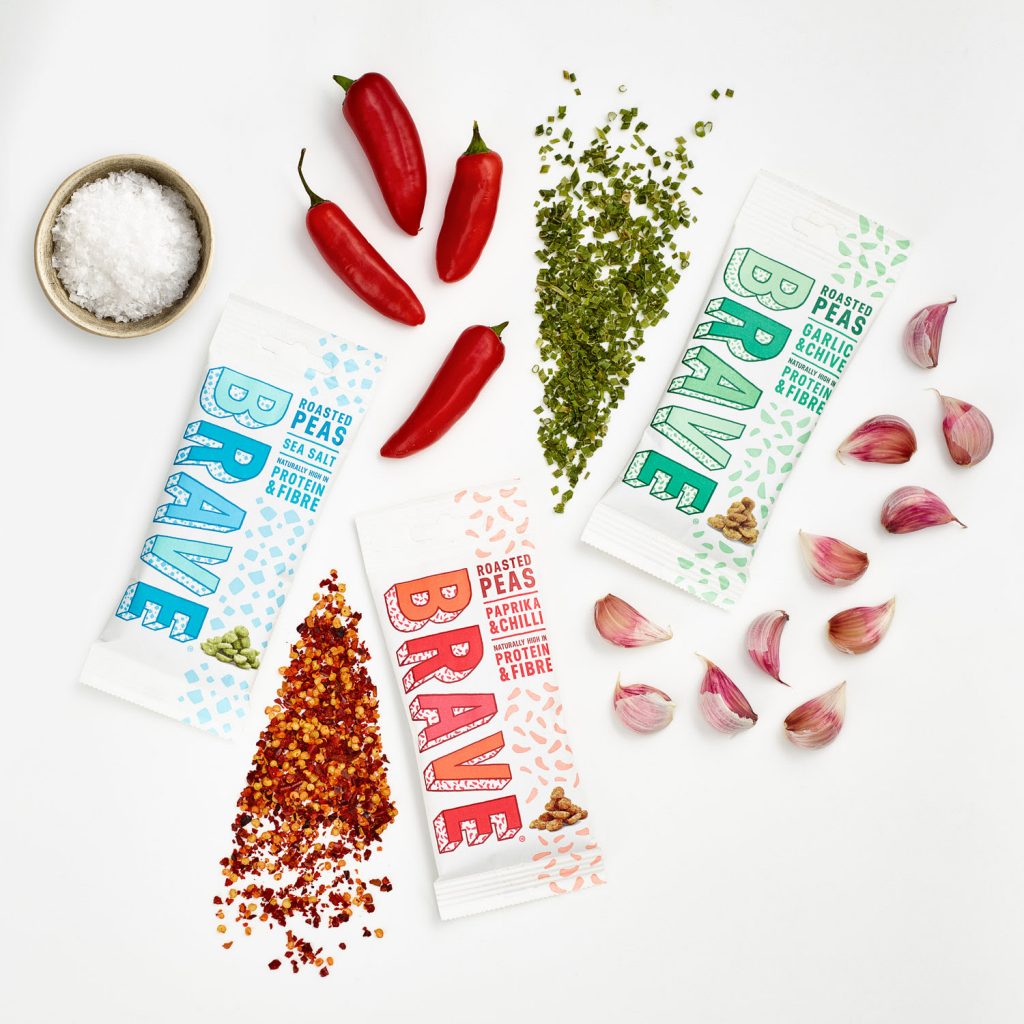 What kind of business do you run? When did you start it and where is it based?
We're BRAVE and we make crunchy Roasted Peas, a delicious and healthy alternative to crisps and popcorn. Our peas are all grown in the East of England and have more protein than cashews and fewer calories than popcorn. They're also completely vegan and contain all natural ingredients and no added sugar. We're based in London and launched in July 2017.
Tell us a little bit about yourselves and your background.
BRAVE has two co-founders (Amber & Seb) and we are fortunate enough to have different but complementary backgrounds and skills. While we both studied business at university, Amber's background is primarily in sales and account management having worked for FMCG brands like adidas and L'Oreal. Seb, on the other hand, come from the world of advertising, having worked for agencies like Wieden & Kennedy, DDB and AKQA. That's also how the key responsibilities are divided within the business – though both of us are involved in any major decision regardless of what discipline it falls under.
What inspired you to start this business?
We also both always wanted to start our own business so it was more a matter of what and when, rather than if. The idea of building something from scratch and growing it was hugely appealing to us. We've both been eating a plant based diet for around 9 years and as a result food is always a big interest for us. Peas and pulses in general are such delicious, sustainable and amazingly nutritious foods and we wanted to find an exciting way to encourage more people to eat these mighty peas!
We wanted to start business that encouraged people to make a positive change. That's where the name BRAVE came from: taking that scary first step towards something better. For us that meant leaving good jobs and going out on a limb to start but it's applicable to just about anything. The change we want to bring about is a return to healthy and nutritious food, that's locally grown and doesn't contain all kinds of strange ingredients in it. We think that's something other people are looking for and will want to go on that journey with us.
What is your daily routine of running your business?
Every day is always a little different and we've got different ways of working between us, too. On an average day, Amber tends to start the day early (around 7am) and sorts through emails before then she's out most days meeting customers, sampling and telling Londoners about our delicious roasted peas. Conversely, Seb starts a little later and tries to block out chunks of the day for any kind of creative or strategy work, with emails and follow ups slotting around that. Having space to dive into that work without distractions is key.
For both of us Monday's and Friday's tend to be in the office, following up with new customers and working other aspects of the business like supply chain and finance.
We make sure to align by having a catch-up meeting every morning at 10am to discuss actions and priorities going forward. Otherwise, everything else pivots around what the business requires on that day. We try to schedule meetings either early in the morning or late in the day so it doesn't cause too much of an interruption and try to finish the day by writing up anything outstanding so it's there for tomorrow. And working out 3-4 times a week in between helps not only keep us healthy but also sane.
What are the best and worst parts of running your business?
The best and worst parts are often two sides of the same coin! Building something from nothing is immensely fulfilling but at the same time, that's something that you're out there doing every day, regardless of whether you're sick, tired or whatever. If you don't do it, it's not going to happen. Nobody else is going to do it for you.
Likewise, being your own boss is amazing. You're at the heart of everything and make all the important decisions. But that means ultimately you're also the one who's taking all the risks and blame for anything that goes wrong.
That's part and parcel of being an entrepreneur so we try to accept them both as a package and not get too hung up on either.
Are there any blogs, podcasts or Facebook Groups about entrepreneurship you follow closely?
ln no particular order: NPR's How I Built This, the Foodhub Facebook group, Taste Radio, daily digest's from Food Dive and The Grocer, Welltodo and FoodBev.
We also like audiobooks and can highly recommend Grit by Angela Duckworth, Do Purpose by David Hieatt, and the Hard thing About Hard Things by Ben Horowitz. They won't necessarily tell you how to start and run a business, but they're very good at highlighting the mindset you need to have to do it.
Which resources to run your business do you use most?
We use a lot of different things but key to running the business are a bunch of tailored excel spreadsheets that manage things like schedules, production and forecasts. We also use Xero for all our accounting, Illustrator/Photoshop for any creative output and Squarespace to build/host our site.
What keeps you motivated to keep working on your business?
We've got two kinds of motivation to get us through the tough times: on the macro scale, we started this business because we're passionate about healthy and sustainable food. We really, really want to encourage people to eat more plants. That's the north star that keeps us moving forward and any kind of tangible proof (for example, hitting a sales target) that it's working is very motivating.
On the micro level, we do a lot of our sampling sessions ourselves and there's nothing better than that moment when somebody's tried your product and you can see on their face that they like it. That moment right there holds enough energy and motivation to power a week or two.
What would you recommend new entrepreneurs? How to get started?
On the one hand, we'd like to say: 'Just do it!'
But that would perhaps sell the journey of entrepreneurship short. The truth is, it's a long, difficult journey and it's twice as long and difficult to do on your own. Consider finding a co-founder(s) if you're on your own. That not only reduces the amount of work there is but also creates a dual perspective and tension that's essential to making good decisions. It's not a mandatory but most solo entrepreneurs we've talked to have said the same thing.
Secondly, talk to anybody and everybody who's been-there-and-done-that. We had a slight advantage in some ways having worked in the corporate world before, but the corporate world is nothing like a startup. What was really invaluable was talking to other entrepreneurs who'd already gone through what was ahead of us. That saved us a lot of time and prevented us from making bad decisions. We're very indebted to those ladies and gents (if you're reading this, you know who you are!)
Finally, become a subject matter expert in your chosen industry – for example, you don't need to become a nutritionist or anything like that if want to work in food but you need to understand the market. We read most daily food publications, attended tonnes of food trade shows and talks for years before deciding exactly what we wanted to do. Having your ear to the ground will help you see opportunities in what is unusually a rapidly changing landscape.
Then go do it!
Who do you think is the most accomplished entrepreneur you've met?
It's a toss up between Simon Mottram or Giles Brook. Simon's done an amazing job building Rapha and arguably singlehandedly made cycling look cool. Giles on the other hand has had incredible success with Vita Coco as well as Bear (and others!) – when it comes to food brands he has a Midas touch!
To learn more about Amber and Seb's company please visit Bravefoods.co.uk and on Instagram.