Today's interview is with pastry chef Michelle Tampakis from Whipped Pastry Boutique who runs a gluten free bakery.

Tell us a little bit about yourself and your background.
I am a professional Pastry Chef, a graduate of The Culinary Institute of America, and I worked for 20+ years as a Pastry Arts Instructor and Director Of The Center For Advanced Pastry Studies at The Institute of Culinary Education in NYC.
What inspired you to start this business?
While working as a Baking Instructor I was diagnosed with Celiac Disease, which led me to start experimenting with gluten free baking.
What kind of business do you run? When did you start it?
I opened a wholesale, gluten free bakery when I realized I couldn't continue working full time at the school. I spent about three years developing recipes, and finally took the plunge in October 2010.
What is your daily routine of running your business?
Although I absolutely love baking, a wise business mentor suggested my business would never grow unless I trained other people to do the baking, so I could concentrate on growing the business, and that's what I've done. My typical day in 8am to 6pm, and I am at the computer about 60% of the day, and sometimes more. I still do product development, in cooperation with my bakers, who make suggestions and try new products. I work Monday through Friday, and then on Sundays I have a customer who takes a delivery, so I always have to come in on Sundays. Saturdays I only work if someone calls out sick.
Do you think that Social Media such as Twitter or Facebook are good marketing tools?
We use Facebook, Instagram and Pinterest to promote the bakery, with weekly postings of pictures. I don't tweet as much as I should. WE have gotten some business from Instagram, cakes mostly.
What tools do you use to run your business?
The resources I depend on most are Quickbooks 2014 and Cheftec for costing recipes. I keep a weekly "scorecard" of revenue, so I can budget myself properly. My worst nightmare is not being able to cover payroll. Although my customers pay promptly, there have been weeks when a few checks have been delayed, and then I'm watching my bank statement like a hawk.
How many people are involved in your business?
The bakery has 8 employees. All of the bakers are culinary school graduates, two were my own students. One guy started as a pot washer, and when I realized he had some good skills, I started training him to roll doughs using the sheeter. Now he rolls all the doughs, and does kitchen assistant jobs like scooping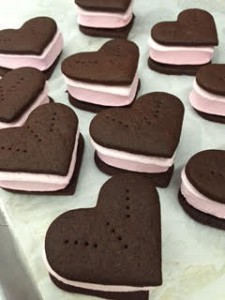 cookie dough and muffin batters, and he doesn't really work as a pot washer anymore. Besides employees I depend a lot on my husband's knowledge of business since he has operated his own company for 18 years.
What was your experience setting up your company website?
Website design was a challenge for me. In an effort to limit expenses, I tried to do it myself with Intuit, and then tried two different independent web designers before settling on Solar Jet Productions. They designed and host the website, and also design labels and other printed materials. I regret not being more computer savvy, since whenever I need to change/add/subtract anything, I have to go through them, because I can't seem to be able to do it myself. As a result, I don't post news things as often as I should.
Do you have a Unique Selling Point?
Our unique selling point is custom baked items for allergen restricted diets. Everything is baked fresh to order, and our customers ask us to create unique, individual items for them with ingredients like kale juice, or acai powder. On the individual level, people order breads and cakes that are free of corn, or soy, or eggs, or olive oil. We have several customers who have standing orders every week for bread, and even Challah.
Do you think it is a good idea to start a business with a friend?
I don't think it's a good idea to start a business with a friend, but I would say an ally, like a spouse or sibling is a good thing. Being able to bounce ideas off my husband and daughters helps me make good decisions, and they also step in if there's a crisis or problem. Even though I am very impulsive, I have come to realize impulsive actions and good business decisions are polar opposites.
What keeps you motivated to keep working on your business?
Keeping a close eye on revenue and my goals of where I want my business to get keeps me from getting distracted. We sank a lot of money into our facility to build it, and knowing I have that debt to pay off, and 8 employees who depend on me for their livelihood keeps me focused. The one thing I learned the hard way is it's a lot more difficult to get new customers than you think, and keeping them is hard as well. I treat all my customers with courtesy and respect, and never take them for granted.
Please visit Michelle's company Whipped Pastry Boutique for more information.