Today we feature Jennie Turnbull from JenniesCakes.co.uk who makes cupcakes and bespoke cakes.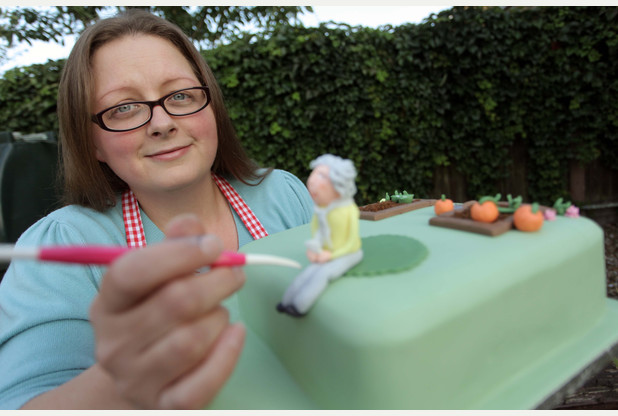 Tell us about yourself and your company!
You could call me a workaholic but I just like to be the best at what I do. If it involves cake then there is something I do. Along with bespoke cakes, cupcakes, cookies, bakery cakes, tarts, tea boxes and other treats, I also cater for serviced tea parties and buffets. Adult and children's parties for cupcake decorating and teach private and group classes for baking and cake decorating.
What would you say makes you stand out from other companies?
Cake decorating is a very competitive market to be in, so I do offer a lot of things that other cake makers don't. In this market you have to be constantly evolving to stay in business.
How many years are you in business? How has the business changed throughout the years?
5 years I have been in business and it has changed massively. For the first couple of year I just made cakes and cupcakes just to see how things went but now I am catering for whole weddings and teaching other people baking skills.
What was your most interesting project?
There have been so many challenging cakes that I have loved doing and I also appeared on DIY SOS with cupcakes but I think the most interesting thing is where I can take my company next.
What would you recommend other entrepreneurs? How to get started?
Research everything; trust your gut and you must have a passion for what you do
How do you acquire new customers?
I do use social media but mainly Facebook and I post on groups and things if I want to concentrate on, like Mother's day orders or special offers, I also run a few competitions. I also have a website which does well and I am on a local website for recommended business. It is not something I really have to worry about now as I have worked hard to build up my reputation and most new customers are recommended to me and they come back for all their special occasions.
How do you use LinkedIn?
I'm on there but really don't use it, I don't think it really fits in for my profession.
What is the best business decision you've ever made?
Jumping in with 2 feet and becoming my own boss.
How many people are involved in your business?
Just me, I do everything then I have a team of ladies for functions. Hard work yes and I have thought about hiring but that is a bit of a headache at the moment with no time to train anyone.
How do you stay productive and not get distracted?
I am a workaholic!
Any books about setting up a business you can recommend?
Never read any, I basically did a lot of the learning in my jobs. There is nothing like on the job experience, you can't get that from a book.
What inspired you to start this business?
Someone gave me the idea after I made my daughter's birthday cake, it took me a while to think about then one day decided to go for it.
What is your daily routine of running your business?
Organisation, double check everything, paperwork, baking, decorating, cleaning and then more of the same, every day. Keeping to appointments, time scales etc all done with lots of tea and the radio on.
What are the best and worst parts of running your business?
The best bits are seeing the looks on people's faces when they see what I have created for them, also that I can (and should more often) work when I want. The worst is if I have got something wrong, which is not often but it kills me and take me ages to forgive myself, something I don't think I will ever learn.
Are there any blogs, podcasts or Facebook Groups about business you follow closely?
I follow the big cake makers and anyone that puts up food related recipes, tutorials etc. I also like to go to the gym so I also follow a lot of keep fit people as well as it makes me feel better about eating so much cake!
To learn more about Jennie's cake business please visit JenniesCakes.co.uk.