Today blog post features Oonagh Simms who runs a marshmallow company in London.

What kind of business do you run? When did you start it and where is it based?
I make gourmet marshmallows in unexpected flavours, from strawberry and basil to blueberry and sipsmith gin. These are sold in luxury retailers as well as bars and restaurants throughout the UK.
Tell us a little bit about yourself and your background.
I moved to Paris at 18 and trained as a patisserie / chocolatier. After 4 years I returned to the UK to live in London and began working for a luxury chocolate company. It was then that I realised something was missing in British confectionary. You see, in Paris I would make perhaps 4 different types of marshmallow a week. They were used in the famous Gateau Royal, brought along to dinner parties or served as a petite four. But in England they were just pink and white puffs. I started experimenting after work with different flavour combinations, using fresh fruits and herbs and spices. Some were successful, some were less so. But after a while I had flavours that I felt tasted incredible and a product that tasted unlike anything else.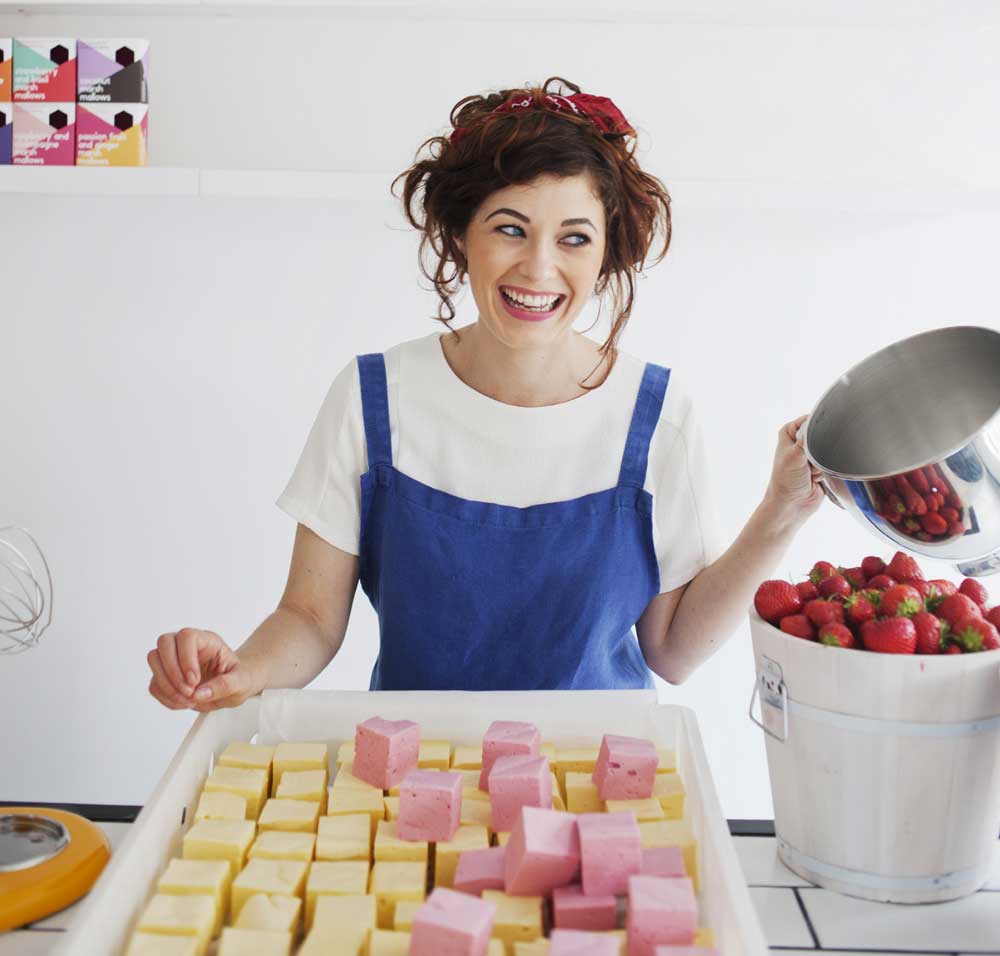 What inspired you to start this business?
I managed to blag a Saturday market stall on Portobello Road and alongside a friend, we started to sell the marshmallows. I would make them at night and we would work the stall together on a Saturday. At first it was just a way of me testing new marshmallow flavours (and making a bit of extra money) but very quickly the marshmallows started getting lot of attention – Vogue magazine, Harper's Bazaar, the BBC.
That was 4 years ago and a lot has changed since- The Marshmallows are now stocked by Selfridges and Harvey Nichols. I have my own bakery and have taken on fantastic staff to work alongside me. I've just finished my first recipe book which comes out soon, have some really exciting collaborations and I'm finally starting to feel as though I might just be getting there.
What is your daily routine of running your business?
Although years of working in bakeries and kitchens meant that I had to be up at the crack of dawn, thankfully, I don't have to do that anymore. I wake up at 7.30 and I'm in the bakery by 9. Being a 'marshmallowist' sounds quite soft and fluffy but I seem to spend most of my day carrying out extremely heavy lifting. Attaching large mixer bowls to a one ton hobart, fixing broken strings on my ganache cutter, lifting 25 kilo bags of sugar from my van.
The marshmallow process takes 3 days from chopping fruit to make the fresh puree, to whipping up the sugar, pouring , setting, cutting, conditioning and then packing.
Our online shop sends alerts to my phone so as soon as someone places an order, it comes straight through to the kitchen. Making sure that customers come to our online store and are happy enough to order again is really important- 70% of my business is through our web shop. So I had to very quickly get out of the 'chef' mind-set and think about design and creative aspects of the company. How we package and wrap the marshmallows how customers feel when they get them.
I take all the photographs for our Instagram account and social media so I always have to remind myself to stop what I'm doing and take a picture of it instead. It isn't something that I gave much thought to before but over the last year it's become increasingly important- it's also a great way of connecting with food lovers, food producers and chefs. Being in a kitchen all day can be quite isolating – so being part of an online community, even if that's 100 people liking a new flavour you've made makes it a lot more satisfying.
Events take over a lot of my evenings – I offer a pop up stand and S'more station for corporate parties, weddings, street food markets, I love doing these and am never happier than when selling or serving on a stall. If I'm not setting up at one of these then I'm catching up on emails, invoicing and accounting – this has really crept up on me. At first it was easy enough to manage but as the business has grown I had to get my head around spreadsheets a lot faster than I would have liked.
What are the best and worst parts of running your business?
The perks of the job are unimaginable – I get to decide who I want to work with, how I want things to look, sound, taste. I also realised that I couldn't do it all by myself so, last year, my sister Jenny came to work with me – being able to do this together means that the downsides (the lack of money and lack of social life) aren't quite so hard.
What would you recommend new entrepreneurs? How to get started?
I never set out to be an 'entrepreneur' I just learnt a craft and thought that I would be quite happy doing that – making chocolates, creating new flavour combinations, working in a kitchen as part of a team.
Any books about entrepreneurship you can recommend?
Quite unorthodox but, Peter Hook's autobiography Hacienda- How not to run a club. A brilliantly written account of setting up and running the famous Hacienda nightclub in Manchester in the 80s and 90s. Of course it was a genre changing behemoth and was set up through sweat, passion and creativity but it ended up costing them a fortune. Bankrupting all of the owners more than once. A lot of very important lessons on falling into owning a business to be learnt. It is also a really fun read.
Want to learn more about Oonagh's company? Please visit Themarshmallowist.com, to buy her book please click here.