Gregory Nemitz sells Beef Jerky online since 1995 at Beefjerky.com. In this interview he'll reveal what he has learned in the last 20 years of running the business.

What kind of business do you run? When did you start it and where is it based?
Beefjerky.com is a sole proprietorship that began in 1995, at the dawn of the commercial Internet. It is a customer service oriented business. I take great pride in offering premium quality, fresh beef jerky at fair and reasonable prices. The price chart on the ordering page is easy to understand and gives a further discount with every additional bag ordered. I always mail the beef jerky in Priority Mail packages. My USA customers get their package in 2-4 days, the many International customers get theirs in 7 to 10 days. My office is in beautiful Southern Idaho.
What inspired you to start this business?
In 1995 the commercial side of the Internet was just starting. I had been occasionally making beef jerky since 1980, mostly for family and friends, and for Christmas presents. Everyone loved my family recipe for black pepper beef jerky. I had a tech friend and we had been talking about how the Internet just might amount to something someday. We thought we should get involved somehow. A few weeks later I woke up one morning and it was sharply clear to me that I needed to buy www.beefjerky.com that day, ASAP, or I might not get it! I called my friend and told him to originally register the domain for me, right now. So for $70, that is how I acquired www.beefjerky.com and started my beef jerky business.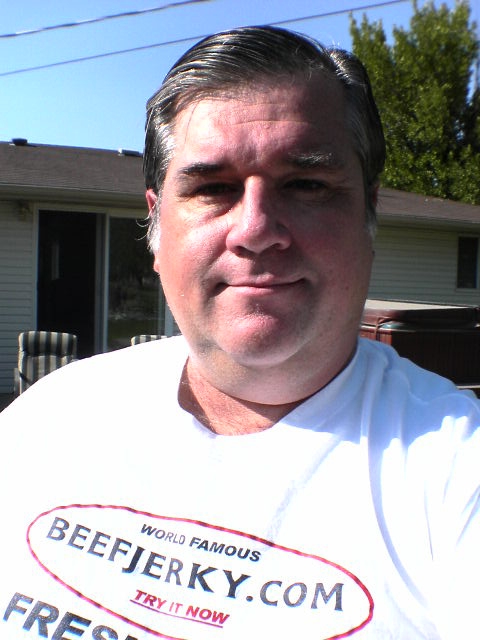 What keeps you motivated to keep working on your business?
I really enjoy operating my Beefjerky.com business. I like that my customers are getting fresh, healthy, and delicious beef jerky from me. I keep the production cycle short so all the jerky is sold while it is still very fresh and tastes at its best. I like that it is a healthy product that is high in protein. It is helpful for people on Paleo, or who choose to eat low-carb to lose weight and get healthy. Not many people realize that Beef Jerky is an incredible source of protein. A lot of the people who buy the beef jerky are athletes or are sports teams who are looking for a tasty snack that is high in protein to help build muscle. It is the perfect snack after a long day of practice or training. And it tastes great as well!
Do you have unique flavours?
Beefjerky.com has six flavours. They are unique takes on standard, well-known flavor styles. Some jerky webshops have so many flavor choices it is a chore to decide. With only six excellent variations, Beefjerky.com makes jerky shopping simple. My two most popular flavours are Final Frontier Black Pepper Jerky and the Original Hickory. Both of these have deep roots in traditional, old-fashioned beef jerky. My Final Frontier has large grain, cracked black pepper and lots of it. For some people it is too much, but it is very easy to rub off the extra, to make the level of pepper just how you like it. The Original Hickory is a very old school flavor that can bring back childhood memories of early jerky experiences. These two flavors are sugar-free. My other four flavors are Honey Teriyaki, Ring of Fire Hot Red Pepper, Whiskey BBQ, and Sweet & Spicy.
What would you recommend new entrepreneurs? How to get started?
The most important thing to a new entrepreneur is carefully choosing your market. Your market must have enough potential customers to make your startup investment of money and work pay off in a reasonable amount of time. Beefjerky.com's market for beef jerky is easy to define, it is: humans with teeth. Almost half of everyone really loves good beef jerky.
What would you say is the hardest part about running a business?
The hardest part of Beefjerky.com is keeping up with the ever-changing Internet. It is a consistent learning environment to know how to apply corrections to SEO, website styles, and new cross-platform functionalities. It is a constant SEO balancing act to keep Beefjerky.com on the first page of the Google results. Another issue is the changing landscape of international laws about importing beef jerky. For example, the United Kingdom completely prohibits the importation of my beef jerky. Growing the business is also a challenge. I look for opportunities to cross-promote my customer list with other Internet business, bulk orders for events & promotions, and new ideas.
Do you have a Unique Selling Point?
The main USP is FRESH; I sell fresh beef jerky. The jerky in your local store, gas station, etc. can be several months old. Beef jerky really tastes best when it is very freshly made. All the marinade ingredients still have their fresh &, popping flavors that accent the beefy goodness. I really try to keep the production-to-sales cycle at just 2-3 weeks, so the beef jerky is less than a month old by the time my customer eats it. Go to your local store and compare prices, even with shipping, my prices are not crazy high. Also, some people like the Astronaut involvement with my Final Frontier jerky. Beefjerky.com's Final Frontier Beef Jerky has flown to space five times on the Space Shuttle, Soyuz, and Progress rockets.
What are your future plans for the company?
My main focus moving forward is to keep on improving traffic and conversion to sales. Beefjerky.com is one of those things that once you hear or read about it, the concept sticks in your mind as sort of, "Of course, I can buy beef jerky on-line. I never thought about that before!" Increasing traffic is all about acquiring more of the public's mind-share. Then my focus is on improving the Beefjerky.com website to better convert all that new traffic into new customers. That is the other end of gaining more mind-share. Both work together in harmony to grow sales exponentially.
What's your favorite app?
Fount Connecting Entrepreneurs is the app that I use to connect with other entrepreneurs. It helps me with taking Beefjerky.com to the next level.
To learn more about Greg's beef jerky please visit Beefjerky.com.