Today we featured Mark who runs Tesol Zone, a website for teachers who are interested to teach English as a foreign/second language (EFL/ESL).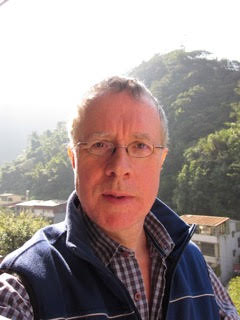 What kind of business do you run?
TesolZone.com helps potential (or current) EFL/ESL teachers learn more about teaching English abroad. Firstly, the website provides job seekers with information on the employment situation around the world, the type of certification they need, and how to go about finding a job. Secondly, Tesol Zone provides guidance on how to teach, and effective ESL activities for the classroom.
Tell us a little bit about yourself and your background.
I'm from the North of England, but have lived in various parts of Europe and Asia for the past twenty years or more. I've taught ELT, trained teachers, written a series of ELT textbooks, and I set up, and then managed, a chain of English schools in Northern Taiwan. I ran them for almost ten years. I now run Tesol Zone, write ELT books, and teach at a university in the countryside in Northern Taiwan.
What inspired you to start this business?
I've worked in most areas of TESOL and wanted to help new teachers make better choices, and to help improve the quality of teaching in the field. I was also interested in running an online business, without the need to rent physical premises, recruit and manage a workforce – although I do sometimes hire assistants and other freelance help .
Does your business generate enough money to support you?
Not yet. But it does provide me with an income equivalent to a part-time job – which is helpful. Actually, my main focus for the past few years has been on writing a series of novels; however, I'm now working consistently on the website and have seen a recent increase in traffic and income. My goal is for Tesol Zone to support me by the end of 2017.
Which resources to run your business do you use most?
I use SBI (Site Build It) a company that provides a lot of support (not only hosting, templates, and technical support) but also tools and training for running an online business. Their training is almost like taking a master's degree in online business – very practical.
Have you ever started a new business and then given up for some reason?
Yes. I set up a copywriting business in London. I quickly found that although I could write, I didn't have the necessary experience or contacts in the field. It was hard, and I was working alone. I managed to get some work, but I found it difficult to get enough business and soon gave up.
My second business was more successful. I set up a language school in Northern Taiwan with partners. I was much more organised this time, and the language school soon attracted students – some of whom travelled over 10km to attend. We expanded to three schools, and employed about 20 people. The schools did well and are still operating, but I sold my share to free myself to focus on other things.
How important do you think is talent when starting a business?
Not as important as hard work and intelligent planning, but it helps, of course.
How did you come up with the name of the company?
I wanted a short name and a dot com. Teaching English has many acronyms: TEFL, TESL, TESOL and more. TESOL was a newer term which as a keyword had a higher demand and lower supply than most others. Also it incorporates the meaning of TEFL and TESL.
How many people are involved in your business?
I work by myself, but I employ freelancers when I need to. For example, I sometimes hire designers or assistants to help with research or more mundane tasks.
How do you stay productive and not get distracted?
I don't always, but I have list of tasks to achieve each day, and I try to focus on those. Having a quiet office at home helps, but I also work on my commute up and down the mountain.
I've turned off all distracting sounds on my computer, such as the one for incoming email (this simple act has helped me avoid the feeling to check incoming mail).
What are your future plans for the company?
I plan a series of 8 short ebooks, each focussing on specific areas of TESOL. I plan to release one every four months for the next two and a half years. I also plan to increase visitor interaction on the site by introducing more opportunities for visitors to submit their own content and comments on certain aspects of teaching abroad.
Outside of business what do you enjoy doing?
I write novels. I also like exercise: running and kung fu.
Do you think that anybody could start a business?
Anyone who wants to badly enough could. You would have to be prepared to be uncomfortable at times, and to stay focussed. If giving up TV in order to work on your new business after you come home from your day job seems unreasonable, then probably not. However, many more people than actually do, could start one. But not everybody is suited to working independently.
What is the best strategy to utilize Twitter for a business?
This is an ongoing experiment for me; I've mastered SEO more than social media. But, Twitter has been useful for connecting with related businesses, and I've found advertisers there.
I've recently registered the hashtag #tesol, and am experimenting with this. Registering a hashtag does not confer ownership, but my hope is that it will encourage the search engines to look more favourably on my site.
Twitter has also been useful for brainstorming ideas for articles and areas of interest related to my website.
What is your experience with LinkedIn?
I've only recently become actively involved on Linkedin. I'm still exploring the website, but it looks like a good way to connect with other professionals, and directly with businesses.
As with Twitter, it's been useful for generating ideas. I've become involved in groups related to my area and have met many other ELT professionals in this way.
For more information please visit TesolZone.com.