Today's interview is with David and Elle from Jumpanzee who run a design agency.

What kind of business do you run? When did you start it and where is it based?
We run a small design agency that is focused on providing affordable web design/development, branding, & explainer video services for small businesses & startups. We started about 6 months ago in Atlanta, and we are currently based in Fort Myers, Florida (although we have a distributed team located around the globe).
Tell us a little bit about yourself and your background.
My co-founder (Elle) & I are married (we were highschool sweethearts) and both originated from Atlanta, Georgia. Elle graduated from the Savannah College of Art & Design (SCAD) in Atlanta with a Design degree and freelanced as a web designer/developer & graphic designer for years. I graduated from Georgia Tech in Atlanta with a degree in Project Management and managed projects both domestically & in South Africa. We both always had a desire to combine our talents and start a business together which led to us beginning Jumpanzee.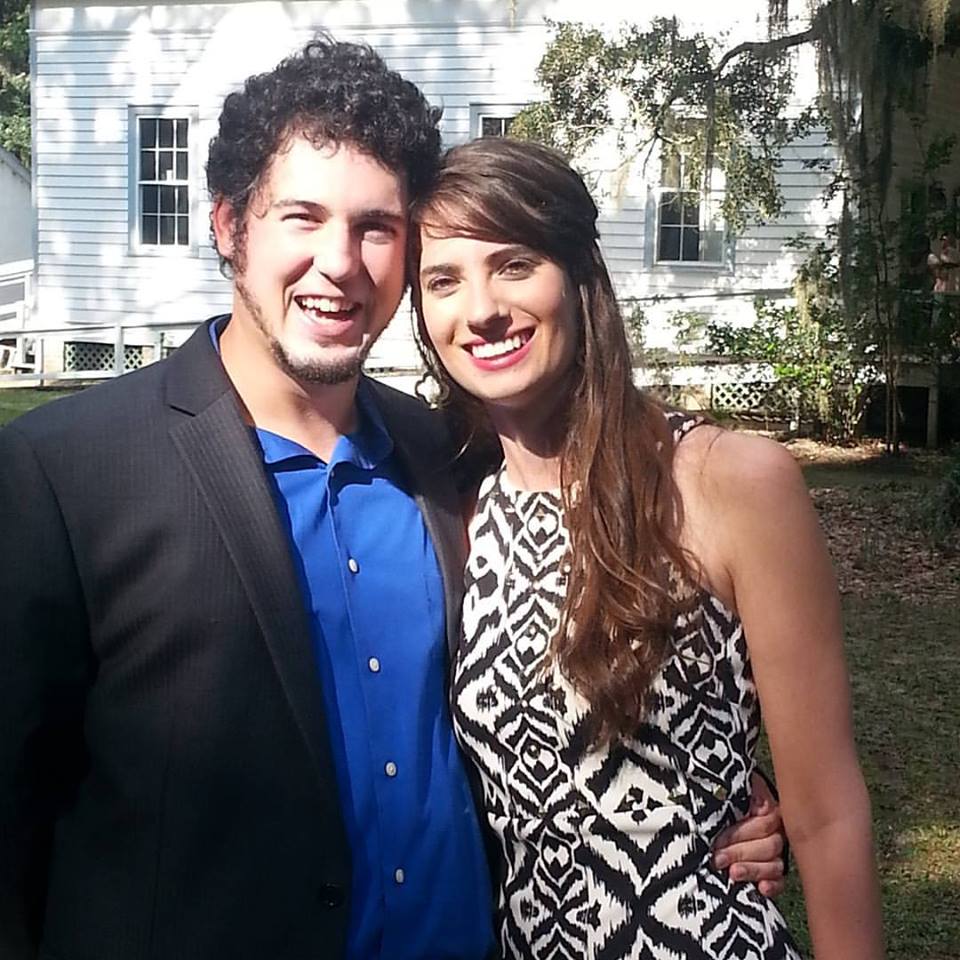 What is the process if somebody wants a website design from Jumpanzee?
The first step would be to get in touch with us, which we try and make as easy as possible (our website, live chat, social media, email, phone, etc.). Once someone reaches out and lets us know what they are looking for (landing page, multi-page website, e-commerce, custom platform, etc.), we will have them complete a short branding questionnaire and possibly have a short phone call which will let us know their design preferences and what content/functionalities need to be included in their website. After that is established, we will create a wireframe and develop a mockup of what their site will look like. The client will give us their feedback which we will incorporate into a finalized mockup. After that, development of the site will begin. Once we are finished, we will submit the website to the client for review/feedback and use those comments to finalize their website. We can also help with migrating the site to their own hosting or they can host it with us. The website will then be live, and they will be open for business!
I've seen you have a live chat program (tawk.to) on the site. Has this increased sales?
We cannot say enough good things about Tawk.to. It is free and an absolutely amazing tool for communicating with visitors to our site. We can immediately answer any questions they have about our services/prices/etc. rather than them sending us an email and waiting for a response (which we still try to respond to as fast as possible – usually less than 24 hours). We believe that this has definitely increased sales with visitors having the opportunity to chat with us rather than just leaving our site. Also, it has a mobile app, so we can respond even if we are not near our computers. Sometimes, we just have conversations about the visitor's business, country they are visiting from, or just what they like about our website. We definitely recommend anyone who has an online business check Tawk.to out.
I like the idea of the explainer videos. Tell us more about them. How much would a customer have to pay for one on average?
Essentially, explainer videos are exactly what the name implies. They are a tool to quickly and effectively explain your company, service, and/or product(s) to your target audience. With the average person having an attention span equivalent to that of a goldfish and hating to read a long block of text, they are perfect for getting the point across in an interesting way. They have been proven to increase conversions by up to 20% and are a wonderful marketing tool. There are a few different formats, but we mostly focus on animated motion graphics which are aesthetically amazing. On average, a customer should expect to pay around $500 for a 30 second video from Jumpanzee (although we can certainly create longer ones and develop scripts for our clients as well).
Do you provide after sales support? From my own and other people's experience it often happens that a designer or programmer will go AWOL.
We absolutely provide after sales support. We never leave our clients hanging even after completing their project and seek to differentiate ourselves from the numerous "fly by night" companies out there. If someone is having any issues or just needs advice, we strive to be their go-to resource and genuinely want to see their business succeed.
Do you ever reject a project because it doesn't fit well with your company?
Yes, we sometimes reject projects that don't fit well with what our company provides. We believe it is in our best interest as well as the potential client's best interests to do so. If it is not something we 100% believe that we are the best resource to deliver, we let them know. We never pretend to be able to handle every project that is presented to us as we believe in only taking work that we are confident in delivering amazing results for.
Are there any blogs, podcasts or Facebook Groups about entrepreneurship you follow closely?
Our free time is certainly limited, so we try and select a few media sources that we believe provide excellent content, advice, etc. and stick to those. Our favorite podcasts that we regularly listen to are the Tim Ferriss Show (which has some amazing interviews), the Tropical MBA & Startup. For fun, we also listen to Serial. The only Facebook Group we follow religiously & try to participate in is Groove Learning which is an absolutely fantastic group of helpful entrepreneurs.
Do you read any discussion forums about business?
I don't know if it's considered a "discussion forum, but we do spend a decent amount of time on Reddit. The subreddits that have been the most helpful for us (both in providing useful case studies, advice, etc. as well as leading to actual clients) are r/entrepreneurs, r/smallbusiness, & r/startups. These are great for seeing what issues others are dealing with in their own businesses/startups and how they are solving them.
Any books about entrepreneurship you can recommend?
There are a lot of great books out there, but here are my top four right now.
i. The 4-Hour Workweek by Tim Ferriss – This book is singlehandedly responsible for opening up our eyes to the possibility of a location independent lifestyle business. With our love of travel, this book really hit home and inspired us to finally start having serious conversations about starting a business.
ii. The $100 Startup by Chris Guillebeau – I actually just finished this a few days ago. It had some excellent examples of people starting businesses on a budget. While it does not necessarily have a ton of detailed & concrete instructions on building your own business, it is still a great (and quick) read.
iii. The Lean Startup by Eric Ries – I am currently in the process of reading this. This is probably the #1 book recommended to me and really focuses on the lean process of testing for startups & businesses. It has already given us some great ideas & processes for Jumpanzee.
iv. From Zero to One by Peter Thiel – I am also in the process of reading this one. It's always a great idea to hear what Peter Thiel has to say, and this book really challenges the way to approach innovation, technology, & the future for startups (or really any business).
What tools do you use to run your business?
While some of these change on a week-to-week basis (as we test to see which best fit our needs), our current list comprises of: Slack, Google Hangouts, Google Drive, Adobe Creative Cloud, Google Analytics, Social Media (Facebook, Twitter, Instagram, & LinkedIn mostly), Skype, Tawk.to, Grasshopper, Trello, & WordPress (although I'm sure we are forgetting some).
Do you have a Unique Selling Point?
Our USP is our ability to deliver extremely high-quality work for affordable prices in a very personable manner. We work closely with our clients to put them at ease as the process of design & development is usually foreign and stressful for them to deal with when they would rather focus on the day-to-day aspects of running their business. In line with this, we have positioned ourselves as a one-stop shop for their creative needs with bundled services as our clients usually have multiple requirements.
How many people are involved in your business?
In the last week, we have actually added 2 additional members to our team which brings us up to 13. Our team includes graphic designers, web designers, web developers, video producers, a social media manager, a sales manager, and Elle & I. Currently, our team is located in the US, Canada, South Africa, Romania, Portugal, & the Philippines.
How do you stay productive and not get distracted?
The number one tool/process we use for remaining productive is time blocking. At the end of the day, we plan out what specific tasks need to be accomplished the next day. We then take those tasks and divide them into short time blocks (one task per block). Each block is purposely set to be shorter than we believe we can complete the task in, so we remain driven & focuses. We also have short breaks in between blocks to "recharge". Overall, this has been a very success process for us.
Do you use WordPress? Any plugins you can recommend?
Yes, we often build websites for our clients on the WordPress platform. There are plenty of plugins that we use depending on the build and our clients' needs, but we definitely have some favorite go-to plugins that we always install. The first is the iThemes Security plugin which is a quick and effective way to secure your WordPress site. We also use the Yoast SEO plugin to help with on-page optimization. The red-light/green-light guide and real time analysis tools are user-friendly and make optimizing content much easier. Finally, we cannot say enough good things about the Duplicator plugin by Life in the Grid. This has become an essential plugin for our build process and makes migrating WordPress websites from the testing server to the client's server a breeze.
If you are interested to learn more about David and Elle's company please visit Jumpanzee.com.