Today we talk to Internet specialist Heath Snoek from NetScope.
What kind of business do you run? When did you start it and where is it based?
I run a business that does Internet & WAN application monitoring and control. It allows you to monitor, guarantee & block any application running across an Internet or WAN link. It is aimed at business. NetScope started development in 2005, but really kicked up a gear in 2014 when version 1.5 was released. NetScope is based in Sydney Australia.
What application would a company want to block? Could you give an example?
A company might want to block bittorrent for example. Bittorrent hides itself by using random ports and is hard to track without using deep packet inspection (which is how NetScope detects it). Skype also uses random ports and a company might want to protect that application so that it doesn't have delays when other traffic hogs are using the network (such as Windows update, iTunes update for large file transfers).
Do you sell software or a service?
NetScope is sold as both a VMware virtual appliance (software) or a hardware appliance (a tower server or rack mountable server). We also do 'Network Health Checks' which we do as a service.
Tell us a little bit about yourself and your background.
At the time of this writing. I'm a 36-year-old family man with three young boys. I have been in IT my a large part of my working career, with the exception of four years spent as an emergency department registered nurse. I have particular passion for networking and Linux.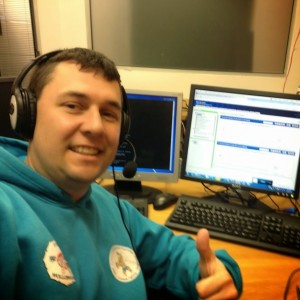 What inspired you to start this business?
I believe the only true way to be creative and free is to start your own business. As long as it is something you already enjoy, why not turn it into something that could make you a living?
What is your daily routine of running your business?
At the start of the day it usually involves answering emails. I then usually spend the first couple of hours on marketing (unless we have a big marketing drive on and then I spend a few more hours each day on that). I will then move on to sales calls, following up on leads. I used to do a lot more research and development on NetScope but the team is big enough that I don't need to be involved in that as much.
What are the best and worst parts of running your business?
The best part is easily the freedom and creativity to run things how you like (control freak at heart). The worst is when starting out not knowing if my product will be a hit with people.
Does your business generate enough money to support you?
Yes. I am very lucky in this regard. It not only supports me but a development team, accounting and money for marketing.
Are there any blogs, podcasts or Facebook Groups about entrepreneurship you follow closely?
https://www.reddit.com/r/Entrepreneur/
https://www.reddit.com/r/startups/
I used to follow blogs over at HubSpot but I have found that information becomes repetitive. Also, once you have learned quite a bit it becomes hard to find useful information.
Which resources to run your business do you use most?
I use Google Apps for work, Insightly as my CRM, Google Adwords, mainly. There are a couple of other tools I use now and again that probably aren't worth mentioning.
What keeps you motivated to keep working on your business?
I really enjoy it. NetScope is well loved by all who use it, it is a product that has much more growth potential. I believe in NetScope's usefulness right now and well into the future and I can only see good things to come.
What would you recommend new entrepreneurs? How to get started?
I would not quit the day job until proper due diligence on your product or idea has been done. There are plenty of ways to see if your product has a market, through market testing. Only when you can see a regular income stream would I recommend going full time. That is just me, though, I'm sure there are a lot of entrepreneurs that proves my example wrong.
Who do you think is the most accomplished entrepreneur you've met?
My father. He is my mentor, advice line and teacher. He is also an entrepreneur and has owned a software company called Turbosoft since 1985.
How important do you think is talent when starting a business?
Talent is important, but it is a very broad term. You need to be intelligent, hard-working and lucky to do well. I personally have at least one of those characteristics.
How much time do you spend running your business per day?
I generally do a normal 40 hour week, but I am often tinkering with things over the weekend and in the evening. I do have to juggle three kids with my wife who also works, so I don't have an endless amount of free time.
You know you're an entrepreneur when …
… you are sick of following silly ideas and orders from someone. You are willing to put your money where your mouth is and start things on your own.
Any books about entrepreneurship you can recommend?
I can't say that I had read any outstanding books on entrepreneurship. I find that reading books on particular topics can really help increase your capacity in that area. In terms of categories here is a couple I have recently read and loved:
Smart Calling, The Dollarization Discipline, How to Write Seductive Web Copy, Freakonomics and Think Like a Freak.
What is your single best non-obvious tip for running a business?
I guess it would be make sure you have a toe in the water in every aspect of your business. For example, I got burnt early on by using a freelancer to create artwork for me and to work on my WordPress site. I ended up scrapping everything and learning WordPress, Photoshop & Illustrator and realised I was completely ripped off. So now I know a little too a lot about every aspect of the business, from research and development to marketing and sales.
What should you take into account when starting a business?
You need to make sure that you can commit to making it work. If you fail the lessons you will have learnt are invaluable and moving forward.
What was your experience setting up your company website?
As I mentioned earlier I initially set up a basic WordPress site and commissioned a graphic designer to come up with some artwork and to improve the site. That backfired, I lost time and money and it was all scrapped. I then took it on board myself and learnt that there are some fantastic paid WordPress themes that allow great control over your site look and feel, and that learning Illustrator really isn't that hard and is incredibly useful for all types of things.
Can you recommend a company or designer who helped you build the website?
No! Especially to begin with. WordPress is so easy to use that it doesn't make sense to pay someone else to create it for you. Don't be afraid of paying a small amount for good plug-ins and themes. The professionalism you get from a great looking site will pay you back many times over.
Do you have a Unique Selling Point?
Yes. NetScope has Internet application monitoring and guarantees for business networks that no other competitor can compete with in a side to side comparison. BUT, and it is a big but, we cannot compete with some of the competitors on marketing spend. Our biggest competitor does not have a competing product, yet can outspend us on marketing 1000 to 1 in the same ad-space.
What would you recommend to generate traffic to the website? Have you tried SEO companies?
I have always considered SEO a bit of a black art. There seem to be tried and true methods for pulling traffic to your site, and ranking organically, but they are basically:
1. Having great shareable content that people find useful.
2. Have a lot of referral links from very popular websites.
I don't know how an SEO company could know your industry intimately. So how could they write meaningful blog posts and drive organic traffic?
Do you think that anybody could start a business?
Of course not. But anybody who wants to start a business, has a useful skill and is willing to constantly learn stands a good chance. Talent, hard work and luck are also important.
Do you think that Social Media such as Twitter or Facebook are good marketing tools?
They haven't paid off for my business yet. I cover the main social media networks because I think it is important to appear active and communicate with the public. If you are selling consumer goods then I think Facebook would be great (I've always wanted to play B2C) but for NetScope it has been a dead end. Of course, this could be because I have not done the marketing correctly.
Do you think making decisions on a gut feeling is a good idea?
Data is always better than gut feeling.
Do you think it is a good idea to start a business with a friend?
Only if you want to lose them as a friend.
Please visit NetScope to learn more about Heath Snoek's Internet company.